So, Tim calls me Thursday night to see if I would like to go the Rascall Flatts concert at HSBC Arena on Friday night and I'm like, "Heck, yeah!" He wasn't sure he had tickets yet, but it was a good possibility. Linda (thank you!!!) who works with Tim, her son drives one of the tractor trailers for the show and thought he could get us seats. So, Linda said she would let us know Friday after she talked to her son.
Friday, Tim calls me at work and says, "Good news is we have tickets, but we don't have seats." I'm like "HUH???"
Why???....
Because our "seats" are in one of the pits right next to the stage!!! Yep, we literally hung on the side of the stage...we could even see the show order that was taped to the floor (hee-hee)! It was amazing, they were soooo awesome!
Hubby deserves a big hug, don't ya think? Check these pics out :) Just a few of the 149 that I took!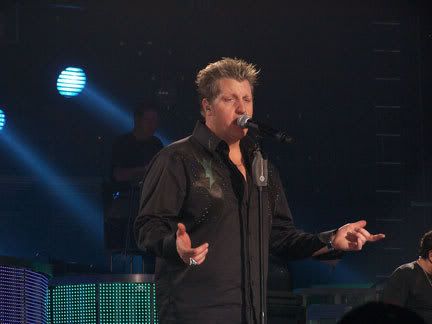 Oh yeah, and here's what they sang in case you're interested!