GAME 10:
Cardinals 14
vs.
Yankees 1
Well the 4 game run ended last night with another Cardinals victory! They just seem to be getting better and better!
Josh had a pretty solid game defensively...he only got to bat twice and had a single and struck out once. His batting average has improved quite a bit over the weekend and is now 0.347! Way to go, Josh!
Tim and Rich took the whole team to Dairy Queen after the game for ice cream cones which they surprised them with after the game. The kids have been playing their hearts out and it was a nice reward for them.
Next game isn't until Saturday, so the boys have a well deserved rest!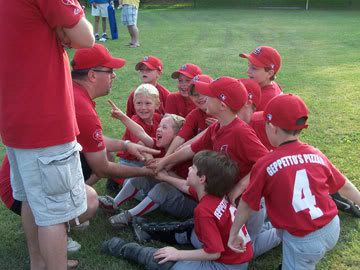 The kids reaction to hearing about the ice cream :) I think Josh was really excited!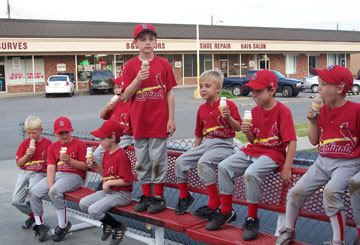 The boys enjoying their cones.
Two faces only their Mothers can love :) hehehe