We can check one more thing off our "things to do in our own backyard" list!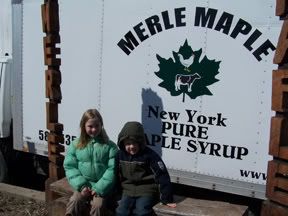 It was the 13th Annual New York Maple Weekend here in WNY so we took this opportunity to visit one of the local sugar houses. We visited
Merle Maple Farms
in Attica, NY where we took a tractor ride to visit the sugar bush and see all the tapped trees. Then we enjoyed hot dogs with maple mustard and took a tour of the sap house where we were taken through the process step-by-step. In true Disney-esque fashion, the tour ended in the gift shop where we were able to sample and purchase all the maple butters, syrups, jellies and even maple cotton candy. Yummy!
Fun Facts we learned today:
~ It takes 40-50 gallons of sap to make 1 gallon of syrup
~ Sap is about 2% sugar and 98% water
~ A maple tree is at least 30 years old and about 24" in diameter before it is tapped
~ As the tree increases in diameter, more taps can be added - up to a maximum of four taps per tree
~ Tapping does no permanent damage and only 10 percent of the sap is collected each year
~ The maple season may last eight to 10 weeks, but sap flow is heaviest for about 10-20 days in the early spring
~ The sap is actually clear (always assumed it was brown)
~ Josh doesn't really like maple :)
It was a fun family day and we'll be looking on the map to visit one of their pancake breakfasts in the next week or so while the season lasts. If you're in the area, or just for fun...visit
www.mapleweekend.com
:)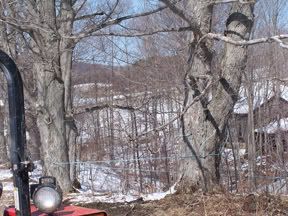 On the tractor ride we were taken up into the sugar bush where we got to see all the tapped trees.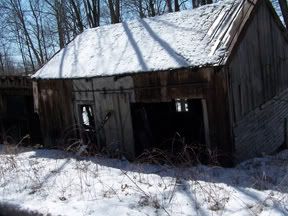 The old sugar shack that was used before they built a new one.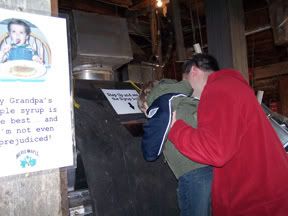 Tim and Josh watching the syrup boil.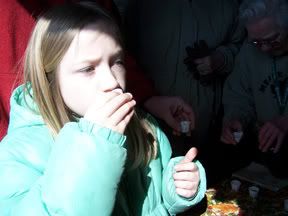 Kayla drinking up the syrup...it was still warm and oh, so sweet!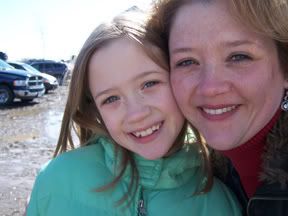 Kayla and Mom enjoying a beautiful, brisk, spring afternoon in the sunshine!