Last Saturday Mike played in the Labatt Blue Buffalo Pond Hockey Tournament in the Erie Basin Marina. It was a gorgeous 41˚ and perfect for the spectators...not so much for the ice. The lake was still frozen with a solid 13" of ice, but the players were chewing it up nicely with the warm temps.
Mike getting a face full of water!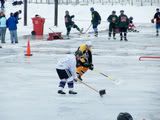 Zambonis...hehehe
The teams skate four-on-four and shoot at a special pond hockey nets that are six inches tall and six feet wide. All of the teams compete in a round robin competition spread among eight brackets, with the playoffs set among the eight division winners...Mike's team didn't make the playoffs, but they seemed to have a fun time anyway.
Mike and his adoring fans :)