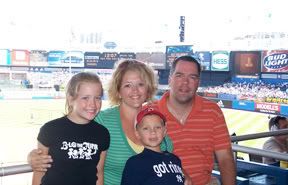 We had an amazing opportunity Labor Day weekend to visit NYC and attend the Aug. 31st game between the Toronto Blue Jays and the NY Yankees. With this being the final season for the Yankees in Yankee Stadium this was an offer too good to pass up. Those who know Tim well know he's a die-hard Cardinals fan, and definitely NOT a Yankees fan...but any baseball fan would jump at the chance to experience a New York home game in one of the coolest stadiums in the country.
Got Rings?
We arrived in NYC late Saturday night and were ready to start bight and early Sunday morning. First stop was to Grand Central Station for NY-style bagels for breakfast. Then we headed to the stadium early to be able to take everything in. We wanted to make sure we were able to see Monument Park which contains a collection of monuments, plaques and retired numbers, pertaining to the New York Yankees. The game was cool, and we were able to see Eckstein and Rolan (former Cardinals) who now play for the Blue Jays. The Yankees lost 6-2, but A-Rod (Josh's favorite) scored a homerun...so he was happy.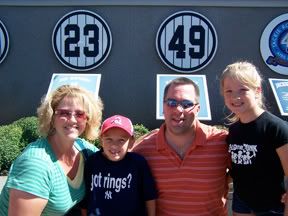 Monument Park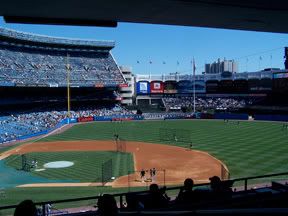 The view from our seats!
Josh's reaction when they announced A-Rod!
A-Rod's homerun!
Steve & Tabitha had our names put on the scoreboard...how cool is that!?!
After the game, we headed to Time Square and Rockefeller Center for a little sight-seeing. We also managed to get to Ground Zero...Tim really wanted to see the site and I haven't been there since 2002 so we wanted to make a special trip. Lastly, we took a round trip on the Staten Island Ferry...it was dark so my pics didn't turn out so good, but what a site with the NYC skyline all lit up.
Times Square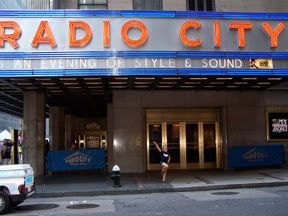 Our future Rockette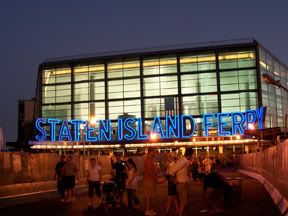 A million thanks to Gene for getting us the tickets and to Steve and Tabitha for letting us shack up at La Maison...we owe you BIG TIME! When do the Devils play the Sabres??? Sounds like a good time for a return trip!