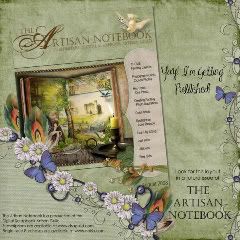 I submitted a LO to the
Digital Scrapbook Artisan Guild
last week. The call was for layouts with blending and the layout was one that I did for Steve and Tabitha's wedding. I'd love to show ya, but I had to remove it from all of my online galleries.
So...look for me in the October issue of
The Artisan Notebook™.
Congrats to Kathryn Estry too...the designer who's kit was used...you can view the kit
here!
Woo-Hoo!