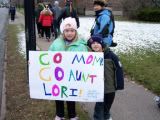 We were Turkey Trotters this year!!! Lori and I have been "training" for this for a few months now and today was the big day. We ran the oldest running foot race in America and were part of a record setting 10,000+ runners this morning. The 8k (5 mile) race was a BLAST! We had a great time people watching, and everyone was so excited to be part of this event.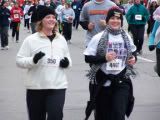 Our times weren't that shabby either... 1:01:28 which placed us 7708th and 7709th (hahaha). It was some great weather and I think we've got a new tradition :) The family came out to support us and kept us motivated...I think we both felt pretty accomplished and proud of ourselves.
Happy Thanksgiving!!!