It's been a busy week and I haven't had a chance to update my blog here...
Last Saturday was Airlanes Day at the Football Field and the kids had a couple inner-league scrimmages to get them ready for the first game of the season which is this Saturday. Full uniforms, full contact, cheerleaders...the whole nine yards! (or 100 yards, whatever!) The team did well and Joshua seemed to enjoy the game much more than practice :)
Are you ready for some footbal!?!
Running through the little cheerleaders, too cute!
Joshua engaging in a little contact...of course he's #5 just like baseball!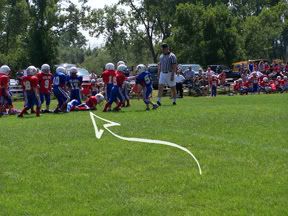 Our little running back with a gain of 3 on the play (tackled where the arrow is)