Last Sunday afternoon we spent at Pom's house making the pierogies for our traditional Polish Christmas Eve dinner (and a few dozen more to freeze to have throughout the year). I think we made 23 dozen cheese and around 12 dozen sauerkraut. Pom made the fillings and dough, Lori and I did the rolling, Kayla and Mom stuffed, Tom boiled and buttered...we were an excellent assembly line!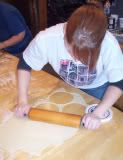 Lori rolling out the dough...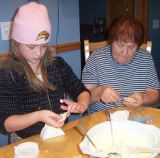 Kayla and Mom stuffing.
Tom doing the cooking.
We got to taste test some of the broken ones and they were yummy! Can't wait 'til Christmas Eve dinner!