The Future Dance Center had it's annual Winter Showcase last Saturday. This show is a nice little holiday tradition that gives the parents a chance to see what the kids have learned so far...and guess what!?! I got to dance too! Lori and I both performed with our adult hip-hop class this year and it was such a blast! It was nice to dress up and get on stage again :) Maybe we'll get to do the recital this year (hehehe)!
Here are some more pics and a couple clips...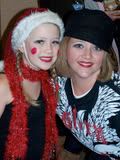 Our first performance together in the same show :)
Me and Lori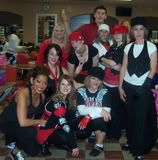 Our hip-hop group...
Kayla's Jazz "Santa Claus is Coming to Town"...she is the 4th one from the right side (black top and red scarf)