I have been meaning to do a "Before & After" page of myself and I finally did it! Wow, it's funny how few photos there are of me "before"...I wonder why??? Still, it's seeing the comparison that will continue to motivate me. The sizes are going down, the scale is going down, shopping for clothes is fun again...what more can I ask?
The quote by Christopher Reeves that I used says it all:
"So many of our dreams at first seem impossible, then they seem improbable and then, when we summon the will, they soon become inevitable."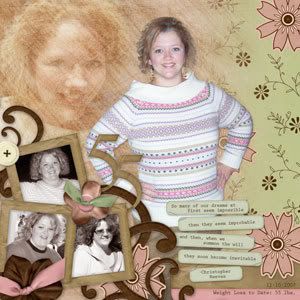 Credits:
Pretty Paper Bag Kit
,
Fresh and Fun & Add-On
,
How My Garden Grows
by Michelle Swadling