Boo to YOU!
Thought you might like to see the costumes of choice this year...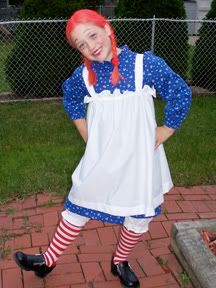 Kayla chose to be Raggedy Ann :) It all transpired from the red and white striped socks that I bought her last year around Christmas time. I thought she might get some use out of them for her Holiday Dance Show and she never did. Plus, she was desperate this year to color her hair. Thank goodness she recruited Gramma to sew the costume! She looks cute, eh? She went to her Halloween Dance at school last Friday and won a ribbon for most creative costume too :)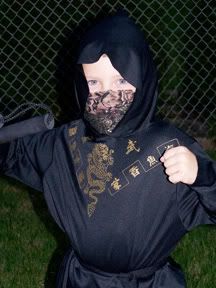 Josh decided to be a Ninja this year! It was all about the props :) I had a pair of foam nunchucks that were still at my Mom's from a dance I did a million years ago...and that was the clincher...he was going to be a Ninja. Plus, I'm dressing as a Geisha (photos to come) and I suggested that Tim dress as a Ninja so we could match...well, Josh heard this as said, "Mommy, I'll be your Ninja!" and the deal was sealed :)
HAPPY HALLOWEEN!!!