Well I had my appointment today at
Red House Tattoo
today to have my navel pierced as my reward to myself for losing 50 lbs. and of course, Lori went with me for moral support and to take some pics...which I couldn't wait to scrap!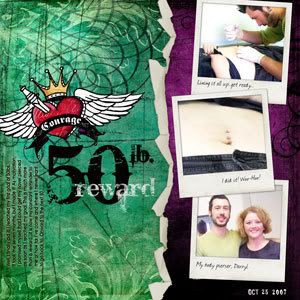 Journaling reads:
Well, I finally did it! I reached my first goal of 50lbs.
It took me seven months, but I made it! As motivation,
I promised myself that I could get my navel pierced
as soon as I reached my goal. This is much more
than a reward...it is now my constant reminder to
me of how far I've come and where I never want
to go back to. Onward to the next 50...
Credits: Skin Deep Collection Biggie by Erica Hite, ScrapSimple Embellishment Templates: Curled Edges and Shadows by Jan Hicks, ScrapSimple Digital Layout Templates - Layered: Instamatic by Amanda Sok, Stamped Dates Brush Set by Mandy Steward, ScrapSimple Tools - Styles: Stamped - Neutrals by Shalae Tippetts (all available at
ScrapGirls
)