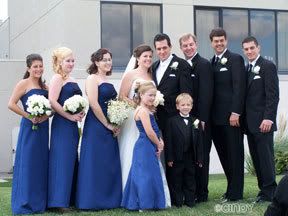 Well, we are back from New Jersey and Steve and Tabitha's wedding was absolutely amazing...crazy, but amazing! The weekend was jammed packed with things to do and we were on-the-go from the minute we got there. Friday we arrived to a 5-course luncheon at San Remo Restaurant...yummy! Then Tim and I had to split up because Kayla needed her final fitting and so did Josh. We met up at the rehearsal at the church then off to the Pizza soiree back at the resort. We ended the evening with a quick dip in the pool, then off to catch some Zzzz's.
Saturday morning...I was the only one to make the 7am workout, but I was so happy I did! The view was spectacular watching the sunrise as the fitness room overlooked the beach...see what I mean? It was so brilliant, I went back Sunday too :)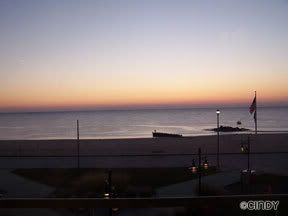 The wedding was so perfect, everyone was beautiful, the bride was stunning...New York hot dogs after the ceremony courtesy of Tabitha's Dad, Gene. Off to the reception at the resort and a bonfire with s'mores and sparklers afterwards.
Sunday, before departing, we had breakfast at the Turning Point Restaurant and then off for another quick swim before hitting the road. We were all tuckered out, but a fun time was had by all.
Check out some of the photographers favorite pics on his blog...Holy Cow! I am totally impressed! This was only a tease...I can't wait to see the rest!
Laffler Photography
Congratulations Steve + Tabitha! Thanks for an awesome time :) Here are some more pics, enjoy!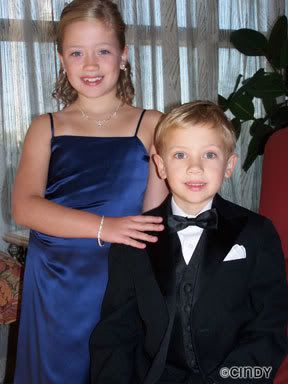 The adorable flower girl and ring bearer. (If I do say so myself!)
Tim and I, photo courtesy of Kayla.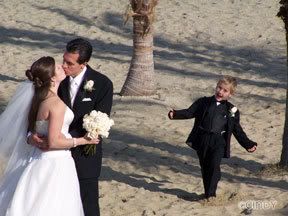 My personal favorite of the weekend...love that face Josh!