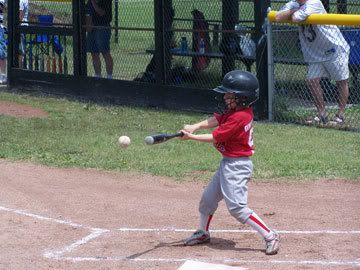 That's a single :)

GAME 9:
Cardinals 15
vs.
Tigers 3
Another Cardinals victory on Sunday! Josh went 3 for 3 at bat, scored 2 runs and had 1 RBI...not too shabby! Tim mixed things up a bit too and gave some of the kids the opportunity to play positions they normally don't get a chance at. Josh got to play catcher for an inning, and was absolutely thrilled! I wasn't so sure it was a great idea, but Tim assured me that's what all those pads are for. The kids are playing some great baseball, and we have one more game tonight to finish off this 4 game stretch.
Tim suiting Josh up in all that gear!
My little catcher :)
Go Cardinals!!!