Ok...I've been a bad blogger, but promise to try to get caught up!
GAME 4:
Cardinals 11
vs.
Giants 0
The Cards played last Friday night (6/6) under the lights! The first game they played at nights and thank goodness because at least it cooled off. After not playing since the Memorial Day shutout it was nice to see the bats working again. They played until the 5th when the entire ballpark lost power, but it was enough to make the game official :)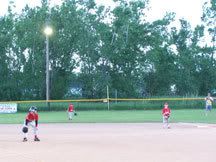 Josh is playing first base in this shot.