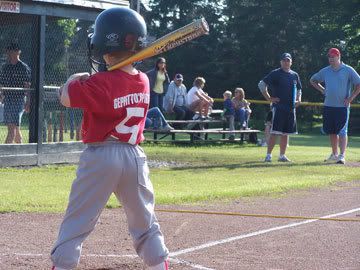 Photo courtesy of Kayla :) My photographer in training.

GAME 7:
Cardinals 14
vs.
Tigers 1
With the threat of rain in the forecast all day long, we were so happy that the skies stayed sunny and clear. We really don't want any more rain outs otherwise we may be still playing in August!
Once again, the boys did great! Bats were connecting, fielding was excellent...we couldn't expect anymore from this team. Josh went 3 for 3 at bat, singling all three times. He had a tough call when he was running to second and the ump called him out (he was safe, and the coach on the other team even said so). He came to the bench with tears in his eyes...he knew he was safe too! But, he knows the ump is always right...or I should say, what the ump says goes even if he has the call wrong. Josh made up for it the next inning with some great fielding and an out made at first...so he got it back!
Today, the Cards take on the Pirates at 2pm...should be a good game and should challenge these boys a bit!