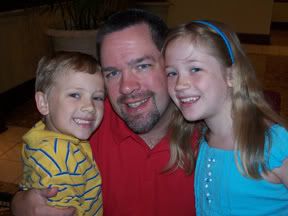 Happy Daddy's Day :)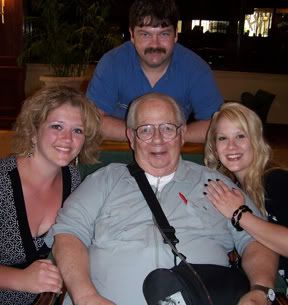 My Dad with his kids :)
We had a really nice family day today! We started out by going to breakfast at Houlihan's (our favorite breakfast place). We went with Mom and Dad, Lori and Mike & Paula & Chris...we always eat way too much, but it's so good!
And then Tim and I took the kids and we headed out to the Bison's game for an afternoon of baseball! The Bisons lost, but the weather was gorgeous and we all had a great time.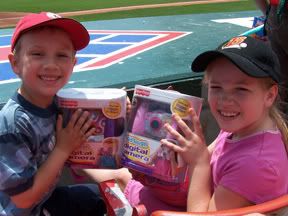 The kids were asked to participate in a promotion for Fisher Price and they were given kid digital cameras to walk around for an inning and take pictures which later in the 8th inning they put up on the scoreboard. My pics of the scoreboard didn't turn out that great because it was so sunny, but the cameras actually took pretty good shots! Then, as a thank you to the kids, they got their own cameras to take home...not bad, eh?
Here is one of the pics that they took on the scoreboard...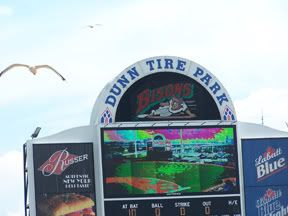 The Father's Day promo was to play catch with your Dad at the end of the game on the field...which the kids and Tim took complete advantage of...along with other bazillion people :)